August 8, 2018 at 7:33 am
#3391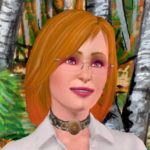 'Eave
Participant
FREE
I had been visiting the Endocrinologist in fe3m and my primary doctor referred me so I did not have to go through counseling. I have been wearing womens clothes for more than 20 years and kilts as much as I can. With a kilt it would not matter if I was outed or not. A kilt can be worn by anyone.
One of the first things that I did when I got out of my parents house was to find women's clothes that people would not notice. I just felt more comfortable in them. The fabrics were softer and they actually fit my frame better. I think I must have actually been born with woman's hips and butt. From behind I have always been misgendered. With my hips the way that were and my longer gait, I have a sway, naturally. Add any kind of heal to that and it is even more noticable.
If I could have chosen what to be when I was born I would have said yes, both.
1 user thanked author for this post.
Terri Anne