May 9, 2019 at 10:33 am
#33975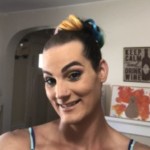 Kirsten C
Participant
FREE
I think this is pretty typical. But in my limited experience it's so important. From physical changes to mental as well. It's a real confidence boost for me.
I am well beyond just active and healthy at this point but it's really a necessity for my coaching. I need to do my best to motivate my girls. And they do the same for me.
If you're still not truly taking care of yourself, you should. Everything gets easier. You'll feel so much better on a daily basis. And a year from now when you're 3-4 dress sizes smaller I don't think you'd have a bad thing to say.  Since Jan i am down 25 pounds as of today and I went from a 12/14 to a solid 8! But truly the mental changes are the biggest changes for me. So much more confidence. Truly.