May 9, 2019 at 10:55 am
#33981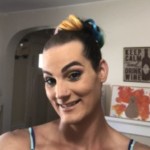 Kirsten C
Participant
FREE
Try to remember this one simple fact. If you aren't happy with yourself, you'll never be able to make someone else happy.
we all face similar situations. I've lost many relationships due to my trans life. But I still have my kids in my life. They actually both live with me. And one is from a previous relationship. And we have a much much better relationship because I did what I did. I still have no idea if my wife will stay with me or not. Transitioning is a very hard experience. And it's no easier for those closest to us. But it can work. It just takes understanding honesty and patience. Because the lies will grow. The desires will strengthen and eventually make you crazy. Find a good gender therapist and talk with them. My GT is amazing! I love her so much and she's helped me is so many ways. Heck even my wife sees her now. It's so important to have a way to talk through all of this with someone who actually has a clue.
It'll all work out how it's supposed to eventually. Just be true to yourself and find your happiness. Only then will you be able to truly give yourself to others.