May 14, 2019 at 6:56 pm
#34111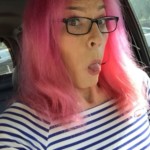 Bananarama
Participant
FREE
Hi Miriya,
My son was in Korea teaching when I came out to him, but I had already fulltime for several months prior. The day before I was to start HRT I told him everything, and it went better than I could have imagined. He got 'it' straight away and said he was happy that I was finally happy. He also said that he loves and accepts me unconditionally, irregardless of what I wear, how I speak or how I present.
Not everyone is as fortunate as I was. Many find themselves in situations that, on the surface, may appear insurmountable. To these folks I say don't lose hope. If your family, including your child or children, love you, then they shouldn't have an issue with continuing that love. Nevertheless, always be patient in coming out to your kids (or whomever). They my need a little space and time to process the whole thing.
Clothing, name change and makeup doesn't make a woman (or a man for that matter). The most important thing about being trans and coming out to others is that you accept who you are full stop. Otherwise, if you don't accept yourself, it may be difficult for others to get on board and support you on your journey.
Hugs, peace and much love,
MJ
1 user thanked author for this post.
Miriya Paris