May 15, 2019 at 4:01 am
#34136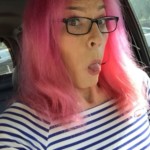 Bananarama
Participant
FREE
Hi Bran,
I can't claim any similar experience to yours, but as someone who's the same age, I strongly believe that it's nature and not nurture that is the determining factor that leads one to questioning, which may or may not lead you to the possibility that you're trans or simply feel more comfortable expressing yourself at home. As Cassandra indicated, only you know what's going on inside, and no, it's never too late. Often times these simple words may seem cliché, but in fact are the basis for everything in one's life, irregardless of whether one is gay, trans, cd, etc.
For me it was a long road of depression, realization and ultimately acceptance of who I was on the inside, and that there was a disconnect between body and mind. Like Cloe and Cassandra, I got off to a late start, but I'm finally happy and it's certainly better late than never!. There's now a spring in my step and a sparkle in my eye that hasn't been there since I was a kid.
The most important part of any of this is acceptance; both of who you are or are not, as well as being realistic and working with what you've got. Whether you're trans or maybe a crossdresser, the main thing is to be you and to be happy, and as Cassandra said, it comes down to figuring out what you want, what you can reasonably accomplish, and the compromises you're willing to accept. Best wishes!
Hugs, peace and much love,
MJ
1 user thanked author for this post.

Bran Aldwyn