May 15, 2019 at 4:38 am
#34142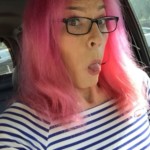 Bananarama
Participant
FREE
Hiya Brenda,
Welcome to TGH. Note there are guys here as well, not just us girls (meh – men!).
I too am 58, but I'm curious as to why you're not taking the insurance route? You mentioned one of your choices was a surgeon in AZ – would that be Dr. Meltzer or his associate Dr. Ley? Out of pocket expenses certainly make Thailand an attractive choice (I have several friends that have taken that route), but Meltzer and Ley are leaders in their field.
At any rate, I'm glad you're here and wish you all the best on your journey.
Hugs, peace and much love,
MJ