May 15, 2019 at 6:22 am
#34159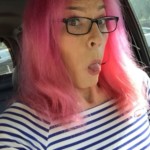 Bananarama
Participant
FREE
Hi Brenda,
I was able to use Covered California in obtaining insurance through Kaiser Permanente. I believe most states have similar exchanges that you might consider looking into for help in obtaining health insurance based on current ACA laws (I've seen plans as low as $1 per month in California, albeit with a slightly higher copay).
However, Thailand has some excellent surgeons and has long been a popular destination for those seeking GCS (India is another popular option). Everyone has their own criteria for what is and isn't acceptable, but you could hardly go wrong by having your surgery there. Nevertheless, there are downsides to traveling overseas to have GCS, one being revisions and another being accountability. This doesn't necessarily make Thailand (or any country for that matter) a poor choice, but you need to keep in mind all possible outcomes, weigh the risks associated with doing so, what's both convenient in the short and long term, as well as the immediacy of the procedure(s) sought. All this is beyond just what your pocketbook can bear.
Whichever you choose, I'm sure you'll make the right decision based on your continued research and wish you all the best. Please keep us posted.
Hugs, peace and much love,
MJ