August 10, 2018 at 10:48 am
#4064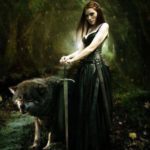 Dame Veronica Graunwolf
Ambassador
AMBASSADOR
Mariabella…..oh sweatheart……I cry for you. What a life you've had. My heart sings now that you have been feeling better and have found a reason to live. Our lives are so parallel that I cannot believe it. I spent 3 years in Vietnam and was shot, Agent Oranged, Napalmed and send sights and actions with people on both sides of the conflict that even Lucifer could not have dreamed up.. I was a medic, there to save lives but circumstances required me to kill as well. I suffer from PSTD, skin cancer, heart failure, liver and kidney problems from being sprayed. I am one of the lucky ones….so many of my troopers have died at an early age from all this. It is a good thing I am so tough… a miracle child…living on. Now that I have found CDH and TGH…..and become woman….everything has eased up and I hope to carry on a while yet. The girls here are such an inspiration to me and I love them all dearly.
Mariabella….I may not physically be with you….but mentally….I have your hand and root for you daily. May the Spirit of Great Grey Wolf look over and help you.
Dame Veronica
2 users thanked author for this post.
Cloe (CC) Webb