July 28, 2018 at 9:01 am
#801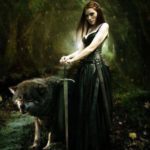 Dame Veronica Graunwolf
Participant
Girls……..you are absolutely correct. In my travels I have seen absolutely horrible treatment of women and children. Our trials here in North America pale by comparison to a lot of other countries. When you consider history and the fact we are all basically immigrants from oppressive areas, our ancestors brought all these habits with them. We are relatively a role model for the world with the progress we have made. But……there is a long way to go. The Governments in North America are allowing all kinds of refugees into the countries and sadly some of them are just trouble makers and it is causing our peaceful and accepting population a lot of grief. It can be seen around the world. I am not against immigration and welcome those who want to escape the barbarism that has taken over the world. Even our own people have these traits and it must be stamped out before all is lost.
Well….there I go…soap boxing it again. I am sorry….do get carried away. What I have seen in my lifetime and my time in Vietnam has made me very critical and depressed over life. It is no pun when I say….Thank Heaven for Cross Dress and Transgender Heaven sites. If we all walked a mile in each others shoes….the world and life would be a much better place for us all.
Dame Veronica
4 users thanked author for this post.