April 24, 2020 at 8:11 pm
#83317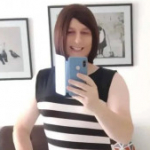 Stacey Renauld
Participant
FREE
IMHO, there's a wide spectrum when considering this question.
Probably most crossdressers are happy to go no further than wearing feminine clothing (no scientific evidence to base this on, it's merely my opinion).  If that's what makes them happy, who am I to care.
I voted no because I feel that if someone is a crossdresser , has no desire whatsoever to transition and doesn't feel that they would gain inner peace through transitioning, then they are not transgender.
For most of my life I would have put myself in the crossdresser pigeon hole…mainly due to lack of information on transgenderism when growing up.  Now, I'm 100% certain I'm transgender.  Crossdressing was never just about the clothes…and certainly never just about the underwear.  When en femme, I became me…or at least closer to being the person I feel I am inside.  Also, every year that goes by is one more where feeling that I can't go on being my cis gender become stronger and stronger…I don't know if crossdressers feel this way.
1 user thanked author for this post. Andrea Ferris