July 30, 2018 at 8:01 am
#849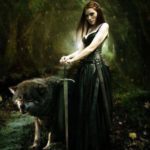 Dame Veronica Graunwolf
Participant
Jennifer….hi sweetie!  It is never too late to go for your dream. Do the research into what is required and what you will go thru….it is expensive, painful and takes quite a while to complete. You want to be sure your body/mind can take this change and physical condition and age can have a huge impact upon whether or not this route can be taken. There are many tales about those who delayed such decisions and now live with the regret of could have, should have and so on. The decision can be very damaging to family life and to friends as well. This is not to be taken lightly….once done there is no going back. Do contact your local LGBT organization and talk to as many of them as is possible before making a decision. The more info….the better.
I am here for you if you wish to chat more about this….my door is always open.
Dame Veronica
5 users thanked author for this post.