July 30, 2018 at 8:12 am
#850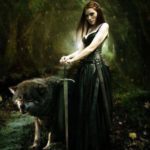 Dame Veronica Graunwolf
Participant
Hi Johna….pleased to meet you. Yes….it is is quite a change to become femme. We have the emotional baggage from our malehood and the repressed emotions of a female. The change can be earth shattering. I was a male for many years and just got tired of it all. I am much happier as a female (too old to undergo transition now) but I know many people who have and most of them are glad of the change. As for your wife…..I do suggest that she read some of the literature and books found on Amazon Kindle e-book site. Knowledge of the subject and personal stories and feelings about it provide much needed info to understand the situation. Love and partnership has no effect on what the body looks like….it is a mental thing….if I love somebody it does not matter whether their body is male/female/scarred/broken and what not….it is their mind and being that I want.
I hope everything works out OK. My door is always open to you sweetie.
Dame Veronica
6 users thanked author for this post.