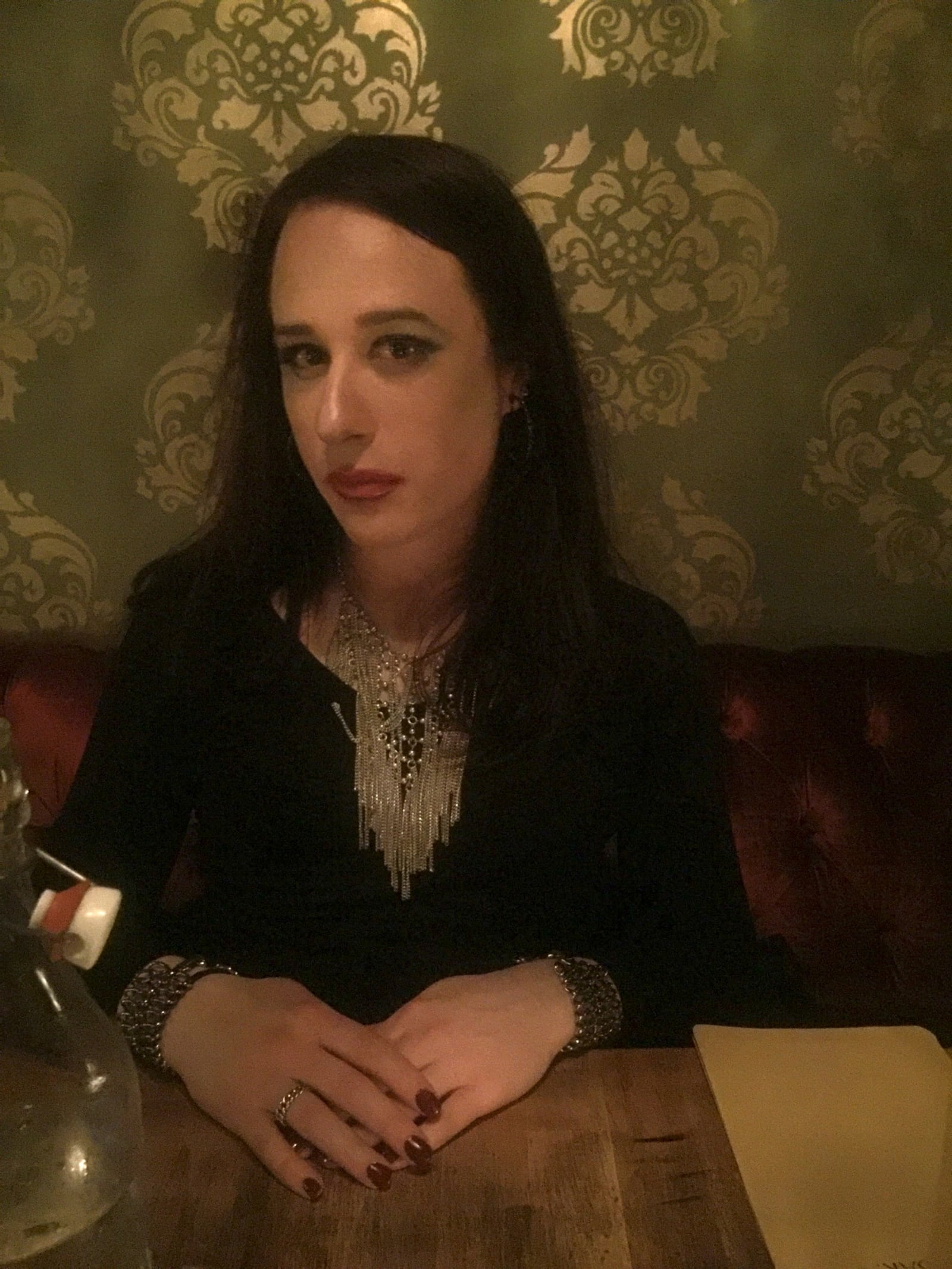 by
rhiannonwings
in
Nightlife
This is from another one of my first times out dressed, probably three years ago. The staff at the restaurant were very sweet and gendered me as female all night without any signs of suspicion, although I'm not entirely sure they didn't clock me. But I didn't care. I had two Absinthe cocktails with a dear friend and felt beautiful for one of the first times in my life. My style has evolved slightly since then, but this pic brings back very fond memories for me...
---
More by the same author
The following two tabs change content below.

Rhiannon Willard
PLEASE READ FIRST: To anyone who wants to send me a friend request, I am perfectly happy to accept *most* incoming requests so long as you kindly send me a quick message first introducing yourself and why you think we may get along or what you hope to gain by bonding on TGH. Sorry if this sounds cold or pretentious but I am on here to make genuine friends, not to acquire an innumerable amount of "friends" that I have nothing in common with or do not talk to at all on a regular basis. Thanks for understanding. Now... I'm Rhiannon, going through a breakup that looks like it will go through with me becoming single again, hence the creation of this profile. I'm new to this scene and lifestyle but the longer I live the more I realize that I am trans or genderfluid at the very least on the spectrum. For a little while I'm sure I'll just be looking for online friends and support, as I'm coming off of a long term relationship and trying to reinvent myself. I have dark brown/reddish hair. Green/bluish eyes. My last girlfriend that I'm in the slow process of breaking up with was a transgender girl that understood me better than anyone else ever has, so I'm hurting quite a bit at the moment. I know that I need to begin to move forward so I'm open to seeing what's out there. I try to keep things honest and open. If you've read this far, I should begin to describe myself in greater detail. I am an artist and focus specifically on painting. What I paint really depends upon my mood. Some days I paint very traditional landscapes and portraits and at other times I go for more "edgy" avant garde works that are typically of figures. In those paintings I try to explore the notions of love, identity, gender, obsessive desire, and politics in a poetic fashion in paint. I've had my work described at times as "Baroque gone askew." Bonus points to whoever catches that reference... Thanks for reading. Rhiannon