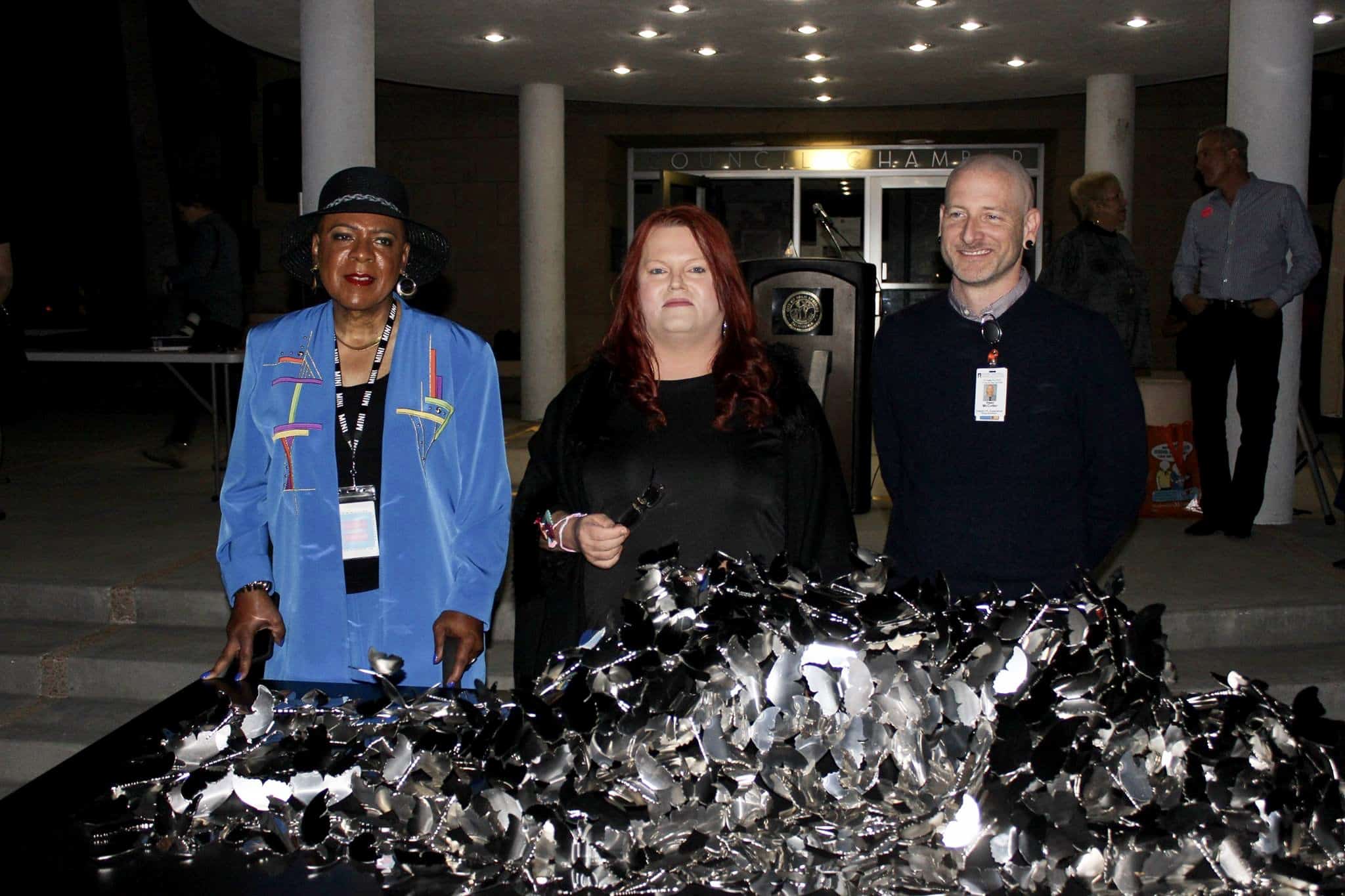 by
flatlander48
in
Group Gatherings
As part of the 2018 TDoR Vigil, the Transgender Community Coalition unveiled a metal sculpture by Heath Satow. I was a board member of the organization at the time. He was commissioned by the group to memorialize a young trans woman from Florida who was beaten, stabbed, burned and left in an alley. The sculpture represents how she was found; on the ground, on her side and in a near fetal position. It is made up of polished stainless steel butterflies of various sizes. The torso is in the center of the image, with the head at the right...
---
More by the same author
The following two tabs change content below.

DeeAnn Hopings
Mechanical Engineer, retired January 2016 and relocated to SoCal. Have a grown daughter and a grown son with my 1st wife, daughter has 2 daughters. Been with 2nd wife for 14 years and she knows everything about me. Vast majority of people here in town know me as DeeAnn, but I do present as my male persona sometimes when I am running an errand and don't want to take the time to get dressed and do makeup. Since I've retired, I've been a board member of our local trans organization and on the steering committee for our local HRC group. I did both of those for over 2 years, but am now resigned from both. Currently I'm involved with a lesbian group and was the volunteer coordinator for Palm Springs Pride celebration. Also Community Liaison Officer with Great Auto of Yesteryear car club and a Commissioner with the Cathedral City Public Arts Commission. Hobbies: BIG motorsports fan, been to all sorts of track all across the US, primarily a fan of open wheel race cars (Formula 1, Indy cars, supermodifieds, Silver Crown, sprint cars, etc.) but I also follow sports cars, stock car and drag racing, have driven a few race cars, used to help a friend take care if his pavement modified, have many motorsports related books and many have been autographed by Indy car winners, Indianapolis 500 winners, Formula 1 winners and WDCs, and Formula 1 team principals Was a cyclist until a mild stroke in the Fall of 2016, looking to get back on the bike soon, also follow professional cycling Architecture fan, love the work of Frank Lloyd Wright and other architects who did a lot of work here in The Valley under the Mid Century Modern style, visited 2 FLW homes in the San Francisco area this past summer that had not been open to the public before, have toured the Robbie House, Taliesin West, the now defunct FLW Museum outside of Ann Arbor, MI and FLW structures in Oak Park, IL Amateur photographer going back to the 80s and 35mm film cameras Computer hobbyist, built a Hackintosh a few years back that serves as my desktop computer.