In this Video Session Kathe outlines the nine elements of the feminine voice and two strategies for achieving a natural sounding female voice. She discusses the tools available to feminize your voice, with particular focus on resonance. Kathe provides feedback on voice samples submitted by members, and answers questions from the Transgender Heaven members.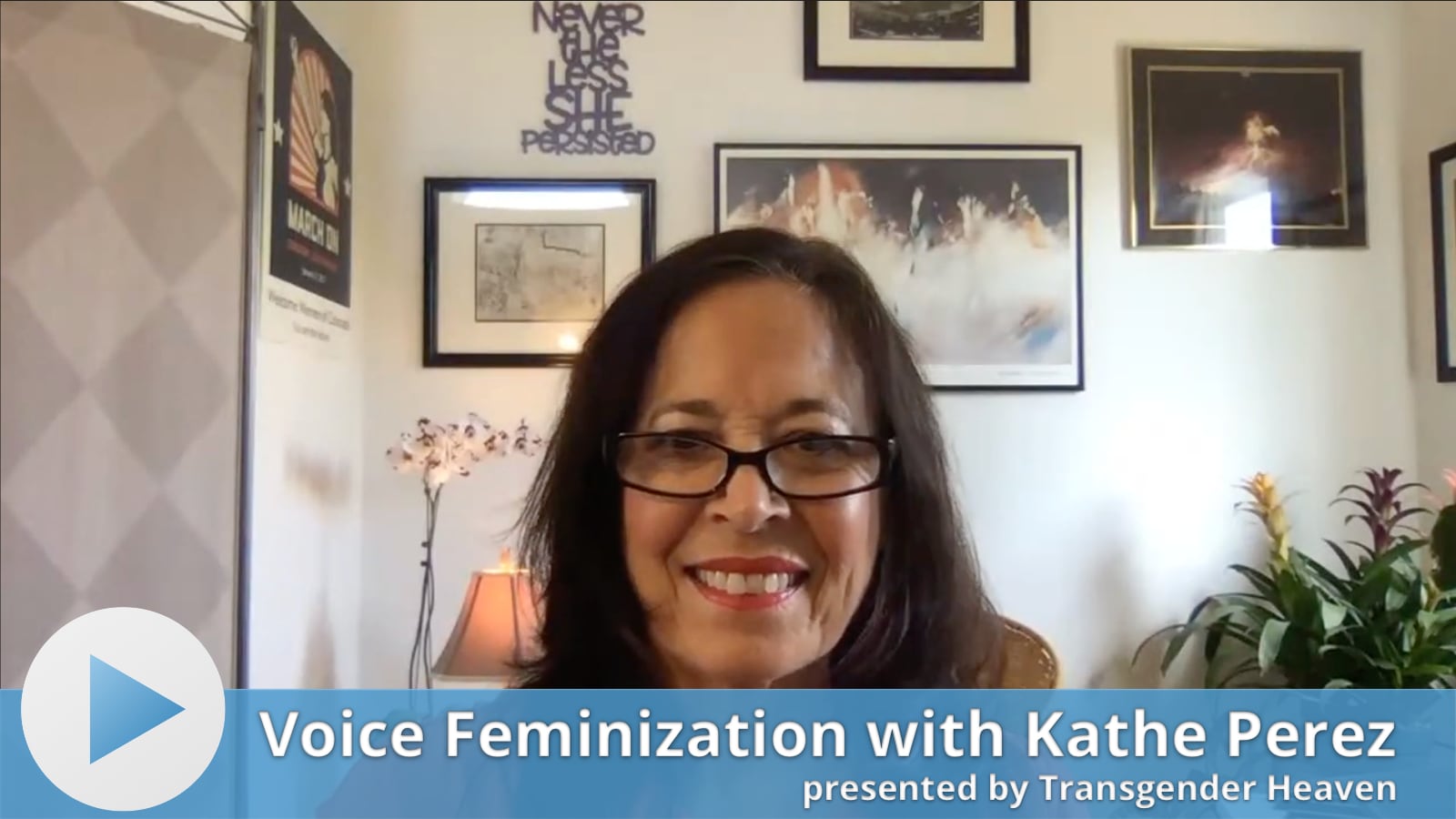 Video Session recordings are available to Bronze, Silver and Gold members.
Join Transgender Heaven to access the video
Already a member? Login to access the video

Gina: Can you explain how the mobile app and web baed training are related? Do you need to subscribe to both?
April: I have a granuloma on my vocal folds – is there anything I can do to work around that?
Michelle: I wonder how the vocal frequencies change with age?
Kelly: How do avoid damaging your vocal cords during training?
Robyn: how does nature versus nurture work here? what can we unlearn?
Tricia: I have a low baritone, almost bass voice. Is there any hope that I could really sound at all feminine while in my MTF crossdressed persona?
Jeremy: How do you work on pitch without trying to touch on your falsetto voice? I am working on my vocalization of the overtone series but I crack into my falsetto very easily.
Gina: What is a good amount of daily practice time?
Charlie: Comment for Kathe: I'm very interested in learning more tips specific for ftm's… and masculinization.
Gina: How does body movement affect voice?
SamantaWhat is the best way to start practicing a femme voice ?
Charlie: As a transmasculine person, I find my singing voice can go lower than my speaking voice. Is that just technique or is it physical from hormones?
About Kathe
Kathe Perez is a certified speech-language pathologist and a member of the American Speech-Language and Hearing Association. She has been working in the field for more than 30 years. As a communication expert, Kathe provides a number of speech, voice and public speaking training programs for Fortune 500 companies, small businesses and individuals from your company Exceptional Voice, Inc in Denver, Colorado.
Kathe is the co-creator of Eva mobile, the world's first voice training app for transgender people and now EvaF web and interactive web-based learning platform. The web-program provides in a series of 12-week courses with all new material, exercises and transfer-of-learning strategies in weekly articles, videos and homework assignments.
Take Your Voice Feminization Further
For best results we recommend Kathe's Complete Voice Feminization Online Course.
Sign Up for the Complete Voice Feminization Online Course