August 4, 2018 at 10:31 am
#1668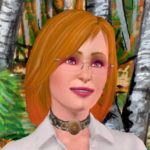 'Eave
Participant
FREE
(and chat if you have that level membership)
Don't have the money for a paid membership yet. Starving artist and sometimes web designer and all. I am sure many can relate to that.
As to the HRT, the wife and I have agreed to try and keep just enough T for a bit of fun. The doctor knows this and if it becomes and issue he said there is always other medications for erections. So I know that they are going to work with me on stuff.
sidenote:  small keyboards and long large fingers do not go together well.
3 users thanked author for this post.