August 5, 2018 at 8:18 am
#2474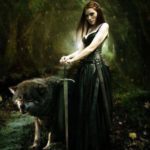 Dame Veronica Graunwolf
Participant
Hi Mia!  Great article! I have been reading a lot about conversing WITH people and not at them. I was an officer in the Military and a Medic. I am also descended from Royalty in Europe, all-though born in Canada. I was so used to speaking at people and giving orders and that was hard to over-come. Thankfully, I have over-come that trait. The "Act" part was slower in coming….battlefield you know. Now I listen first……yes some people do prefer a title or classification that they can be comfortable with. A books cover never tells you what is inside until you "open it". Unless you are reading a training manual. I possess the "Sir or Dame" title but if it is not used in addressing, I don't care. I use Dame with CDH and TGH just to differentiate me from other Veronicas,  LOL.
Etiquette and diplomacy are a must in dealing with people……..although same is often not deployed by most people to-day. That is sad and creates a great deal of misunderstanding and hostility. These two items should be taught in school….makes for a more genteal world     (a new word from me, so as not to offend Gentiles). Take care…..perhaps more articles about decorum are forthcoming????? Thank you.
Dame Veronica
6 users thanked author for this post.