This is the poetry that comes through me as I am on this journey… this journey of this man to woman…. perhaps more accurately, this woman freeing herself from man?  This is my poetry… it's how I journal and express what's happening inside. Perhaps this strikes a chord with others?  The poetry below is not chronological… I didn't try to make it that way… just edited as I found it. I typically write poetry to my wife or to myself, and then forget about it… however, I have started editing it, and decided to share it.
A collection of poems under the theme of I am woman
This poem was written after I dressed as Chelsea for the first time… OMG I was so high on life!
Tonight, we walked, we talked and shared,
Tonight, she was allowed to take her place.
Tonight, I felt the courage to experience – I dared,
Tonight, I revealed my true face.
I am her, and I am loved, and each time I express,
I feel closer to my identity, more comfortable in the dress.
My wife, so caring, so encouraging, and strong,
Holds me up in my fear and helps me belong.
Prissy missy, batting eyes, I am the sassy girl,
No more deception, no more lies, no more fear.
I have embarked on a journey to overturn my world,
He is leaving, enter Chelsea, I am here… I. Am. Here.
Two halves of the whole, yet, one takes the lesser stage,
As I write a new chapter in the book, day by day, page by page.
This is the constant struggle I am in
What is this madness that obsesses my mind?
And leads me to a place I don't want to be.
It has ruined, elated, and consumed my time,
yet she's here now, and I'll never be free.
Fighting the fury, the masculine dream for my life,
A man gets a woman, he the husband, she the wife.
The pleasure received? The sexual thrill?
Perhaps not who I am, perhaps not this girl!
The struggle I feel as I sit in distress,
Am I a man to this life, or am I a woman in dress?
My simple mind can't asses a bi-gender plane,
Either one or the other, regardless of name.
She touches me as her, and I come alive inside,
Dreaming of the day I am to be her bride.
I don the wig, and I assume the role,
And suddenly I'm anew, the broken made whole.
But I can't let them see, I may never reveal,
The pain it would cause me, is worth it to conceal.
I want to trust it, if this is God's plan,
Why else make a woman in the form of a man?
I'm running, I'm fighting, and yet she's there to hold my hand,
I trust her at her word, and then doubt it once again.
Me the man, or Chelsea the woman, either/or, but not as one,
By day he has his say, and by night she's just begun.
I declare, I declare, and then run to this place to hide,
One more day of madness, as I deal with what's inside.
Father God, give me peace, and settle my heart and soul,
two halves of the same coin, between him and her, I feel whole.
This was to my wife. I am so blessed by her… I pray for everyone to find a partner and have as much love as her and I have.
Whatever did I do to earn all your love,
Till I pass I shall never know why.
Every step, each day, you consistently approve,
You're there, pushing me to fly,
Radiance and beauty, with strength that sustains,
And encouragement when I need it to feel safe.
All the hours, conversations, and my spiritual drain,
No way to explain how you make me feel brave.
Man loves woman, loves woman loves woman,
And together they will forever be sewn.
She has set her free to be woman, to be woman,
Yet she has claimed her, as her own, as her own.
Heart to heart, she has fed and watered, now he's fading away,
As he releases from cocoon fully complete.
Her wife, with her wife, now with her – a new day,
Every second. Every moment, a new heartbeat.
I will love you my Elle,
Fully love and obey.
Through heaven or hell,
Year by year, day by day.
I live most days now still as the man… but she's always there… ALWAYS
I'm scared, he says… disheartened by the fear,
My Family! My Children, my work – all that the man still holds dear.
It's easy to dream, elated by the fantasy,
of opening the door to all you desire.
But reality has a way of saying how it "has to be,"
I look away from her now stamping out the fire.
But then, perhaps, BUT THEN, I chance,
I don "this or that" and my heart starts to dance.
It's not that I'm unhappy when I can't become her,
But as him, I'm unsettled, and who I am starts to blur.
I can't retrace the steps, and I don't know how to make it end,
All I know is that I'm here where I am.
Wrestling and fighting, day by day I pretend,
Can I be the woman, or will I remain the man?
I'm scared, she says, as she graces the room,
As he lets her hand go, free to discover and bloom.
Again for my wife — This is what I desire. Even as woman, I want women… and my wife is amazing.. such a sexual paradox and bliss!!
I wrap arms around you and cuddle in at night
The warmth and the supple surrender.
You're there with the passion – holding me tight,
And caresses and kisses most tender.
Eyes upon eyes, kiss upon kiss,
Touch upon touch on the sheets.
The warmth and excitement, the sensual bliss,
The inhale when our two bodies meet.
No words, as I feel the rush and the chills,
Just the breath as you take me on top.
Rapture upon rapture as you hold me still,
Forever the moment, we don't want to stop.
The wave begins, you and I, her and her, face to face,
As the cascade of thrill overcomes,
We expel, we elate, gripped now in tightest embrace,
One last sigh, as our passion brings us home.
Many days, I wear earrings, a pretty apron, and feminine clothes, yet remain without make-up and the bra, etc.
I am the feminine, the housewife, the bride,
Yet present as her man day by day.
She knows and accepts, and we take it in stride,
Her and I, her and her, we have our way.
For now, it will build, as I continue to evolve,
Transitioning from who I'm not, to whom I am.
Through it all, her holding me, in encouragement and love,
Allowing a woman to emerge from this man.
The taboo, the guilt, the pain of this… choice?
No stopping her now that Chelsea has taken voice.
No fad, no games, yet a world of conflict awaits,
As she stands next to him ready to enter the gate.
We gaze into the mirror, and she overcasts,
His visage now fading, as she smiles, and she twirls.
No more closeting of thought, she is here at last,
I look again, and I see that little girl.
Years I lost, yet now I've found her, that "girl" as I enter the room,
I now have a partner that accepts me and approves.
I'm her wife now, she whispers, I will love you to the moon.
He fades, Chelsea stands now, and she is loved.
Will I ever be there, where self, reveals self,
All I am to be revealed as I empty the shelf?
Can I, in all, be allowed to proceed,
Or do I stop and bear it all, out of necessity, out of need?
God stands and he sees me, pieces of a picture he has made,
I am alone amidst all the colors, amidst the doubt, my faith fades.
I am lost amidst the rush, amidst the children, and the time,
Making money, taking care, all who I am out of mind.
Someday.. Some. Day?! I will be allowed to care for me,
I will allow myself to feel, I will be allowed to be me.
For now, little trinkets, little glimpses, with little trace,
Allay the desire, until I myself, all I am, can finally take her place.
Alter ego? Altered state? Liquid for the cure,
Easing back the pain from the strife.
Enveloped in work, family, everything we must endure,
Yet caressed, loved, encouraged by wife.
I have it all – Truly! Yet, just that final piece?
Am I reaching too far, too late – can it be?
She has allowed me to explore, seek out my inner peace,
Looking into the mirror I truly see me.
Heels, stockings, lipstick, hair, and nails- made up face,
Hips, breasts, and lashes for days.
Beyond that – that sensation of feminine grace,
Uncontrollable joy when I "sashay."
Can this be a fad? I daily make the joke,
As I chase who she is, why she has come.
Am I the woman? I ask. I ask this feminine bloke,
DAMN IT, I look at her again and I'm home.
It's not the desire I lack or the sense of what I am,
But the world that may keep me inside.
For now, I explore, and journey as best as I can,
Destination uncertain, I continue on this ride.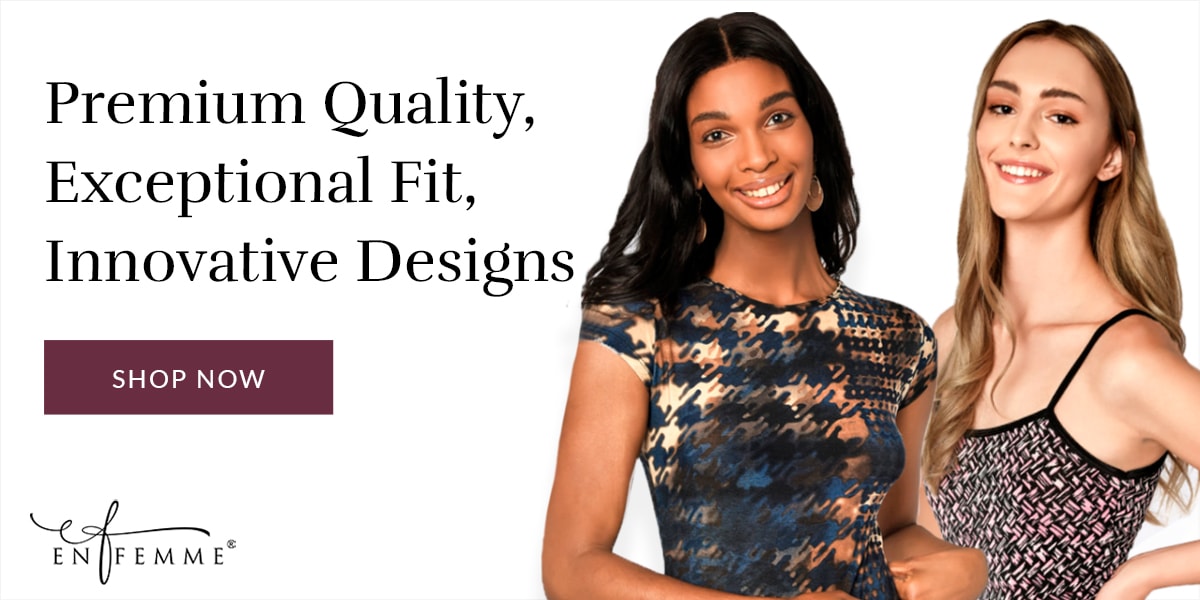 More Articles by Chelsea Marie
View all articles by Chelsea Marie
The following two tabs change content below.
Latest posts by Chelsea Marie (see all)
Tags:
transgender women support