Apologies for the clickbait title, but let's be real: this topic remains a preoccupation for most non-cis-gendered folk whenever leaving the house is a consideration. The prevailing wisdom these days generally stresses the importance of "you doing you" and not giving a rat's ass what the rest of the world thinks…easier said than done, I say.
I hear and understand all the arguments for just getting your girl on and getting out of the house, as I'm sure many of us do, and I've tried valiantly to steel myself for anything. But the fact remains that when I walk out that door, I want the world to see me as female. Indulge me here for a moment while my inner psyche spills her thoughts out onto the page to explore this phenomenon with a tad more depth.
First and foremost, my perspective is based on the fact that I've only recently started going out as Lexi in broad daylight – shopping, to the library, whatever. Largely, I found the courage to attempt this because local indoor mask mandates give me an extra layer of "protection" from suspicion. Of course, this feeds directly into my need to pass as female. So the question remains – why does it matter? For some, it's fear of physical harm – that being recognized as a genetic male in female attire will lead to violence. And though this is absolutely a concern, my sense is that the risk of coming to physical harm, if one is careful, is perhaps not as great as one might fear.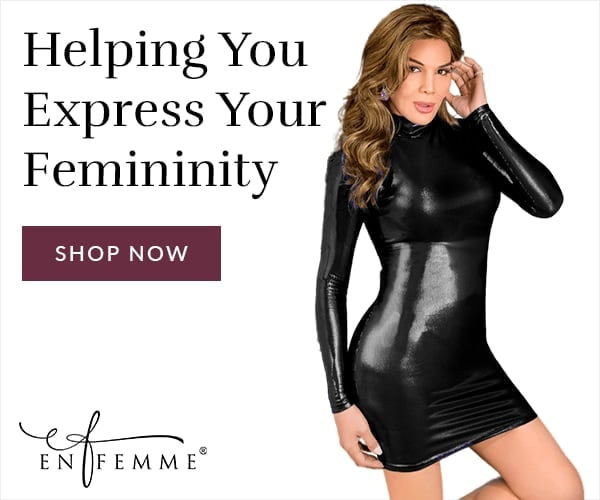 A very common fear is just a general embarrassment. Typically, this is where the advice to just not worry about what people think comes into play. People may recognize you, most likely won't say anything though, and as long as you're feeling confident, who cares what other people think? Let them think whatever they want, you're fabulous!
And yet…and yet…I still care if I pass as female. In the handful of times I've been out, I've been misgendered (based on how I felt I was presenting) twice. I'm not going to lie, it stung. Not because I was embarrassed (I wasn't, really), and not because I was scared (just a store clerk, both times, who were probably more confused than anything). It stung because I put a lot of time and effort into trying to put forth the most convincing female image possible.
If I didn't care what the world thought, I would just stay indoors, where I can take pictures and pose in front of the mirror, content in my own little fantasy world. Why take the risk otherwise? But inevitably, the better and more confident I feel in my look, the more overwhelming the urge to get out and be seen. At a certain point, if it's practical, leaving the house is almost a foregone conclusion. So after all this effort and build-up, you're out there in the real world, being the woman you want to be, and some idiot calls you "sir." How can that not be a buzzkill?
In the grand scheme of things, if the worst thing that happens is someone slips up because your gender presentation confuses them, we should be grateful. Many have had to deal with far worse consequences. But there's no substitute for the validating euphoria of being acknowledged as female. On my most recent outing, I crossed the parking lot of the local strip mall and was addressed as "ma'am" by the solicitor trying to sell candy bars outside the Gap Outlet – something that under normal circumstances would irritate me instead became a wonderful, affirming experience. One simple word was all it took.
Does passing as a female in public matter? When all is said and done, I submit that it's up to the individual. In reality, for many non-gender-conforming individuals, it may not matter at all. But it does to me because this is how I want the world to see me. However, I am a realist and acknowledging the likelihood that I may be read as a genetic male will always be there. For me, that simply means that even though I may not always "pass", I won't let that be a deterrent from exploring the world in my chosen gender.
Ultimately, when I'm out in public, and I catch a glimpse in a mirror, if I see the woman I know I am reflected there, then that will have to be enough. I know that I can't control how the world sees me, but that doesn't change how I want to be seen.
How you want to be seen does matter. Just don't let the fact that others may not see you that way deter you either. You are beautiful.

More Articles by Alexis Moon
View all articles by Alexis Moon
The following two tabs change content below.
Lifelong crossdresser who is finally accepting that the urge to crossdress stems from a desire to present as female. I've resisted this path for far too long, always trying to convince myself that I just do this for the sexual thrill, or that I like just being a guy with a "hobby," but now I know that isn't true. When I look in the mirror, I want to like what I see, and that only happens when I see a woman looking back at me. This is a very recent revelation for me, and I'm not really sure what it even means (or will mean yet), but I'm hoping to start figuring that out. Definitely still more questions than answers at this point.
Latest posts by Alexis Moon (see all)
Tags:
appearance
passing
public interaction